EMBRACE YOUR BOHEMIAN SPIRIT WITH ROADTRIP NOSTALGIA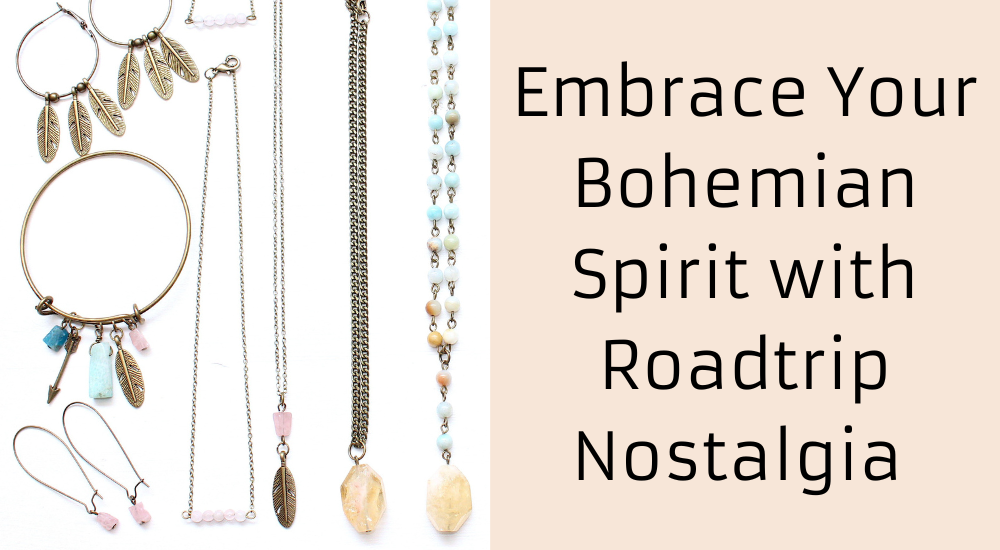 Hello, fellow adventurers! Can you remember that unforgettable summer road trip, when the morning sun painted the sky in hues of rose quartz and citrine? Do you remember those carefree, barefoot days strolling along a beach boardwalk, the blue apatite sea reflecting in your eyes? Those cherished moments have found a home in my handmade natural gemstone jewelry collection, Roadtrip Nostalgia.
Jewelry is much more than simple accessories; they are talismans that remind us of moments, places, and feelings. I've channelled the spirit of that freedom, those warm colors, and breezy vibes into each unique piece of the Roadtrip Nostalgia Collection. Unlike the mass-produced items you'll find at Anthropologie or Sundance, our collection is crafted by hand, with love, patience, and meticulous attention to detail.

Each piece in the collection begins with an adventure in selecting the perfect stones. Amazonite, rose quartz, citrine, and blue apatite are the stars of the show here, embodying the elements of earth, air, fire, and water. Their energy, combined with their natural beauty, lend an aura of tranquility, love, joy, and clarity to each piece - an ensemble of summer memories that you can wear.


Amazonite, the stone of hope, resembles the summer sky at dawn on a day filled with potential and promise. Our Amazonite necklaces and bracelets will guide your spirit on its journey, adding an ethereal touch to your boho outfits.

But what is a sky without its sun? Citrine, a stone of abundance and manifestation, reflects the sun's golden rays, encapsulating the joy and warmth of those carefree summer days. Our citrine earrings, with their unique shine, will make you the center of attention in any gathering.

No summer road trip is complete without a dose of romance, and that's where our rose quartz pieces step in. Known as the stone of universal love, rose quartz infuses an element of love into the wearer's life. Our rose quartz necklaces are made for dreamers and romantics, those who wear their heart on their sleeve.

Lastly, we pay tribute to the mesmerizing blue of the ocean with our blue apatite pieces. Blue apatite, the stone of inspiration and motivation, is there to awaken your inner creativity. It's like carrying a piece of the ocean with you - a constant reminder of your summer adventures.


Each piece in the Roadtrip Nostalgia Collection incorporates elements of brass, a timeless metal that adds a vintage touch and complements the natural beauty of the gemstones. The collection is also peppered with motifs of arrows and feathers, symbols of direction, freedom, and spiritual strength, underscoring the bohemian ethos that is at the core of our designs.

Roadtrip Nostalgia is not just about wearing jewelry; it's about wearing memories, moments, and emotions. It's about donning the spirit of summer and taking it with you wherever you go. It's about being proudly bohemian, fiercely free, and beautifully unique.

Remember, when you choose Roadtrip Nostalgia, you're not just getting a piece of jewelry. You're getting a story, a sentiment, a memory. And just like those precious summer days, each piece is one of a kind - there will never be another quite like it. So why wait? Begin your journey with Roadtrip Nostalgia today, and carry a piece of the summer sun, the morning sky, the loving heart, and the inspiring sea with you, always.
Here's to the eternal summer spirit, the free-spirited wanderer, and the endless road that calls to your heart. Embrace your bohemian soul, seize the day, and let's hit the road together with Roadtrip Nostalgia!