5 AFFIRMATIONS FOR SELF LOVE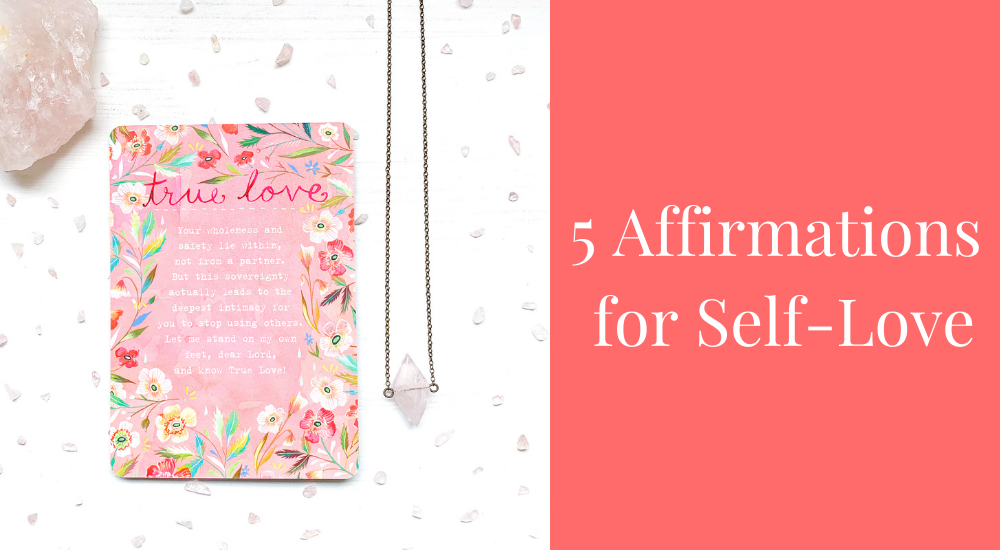 1. I ACCEPT AN ABUNDANCE OF LOVE IN MY LIFE
2. I LOVE MYSELF
3. I AM COURAGEOUS
4. MY HEART IS OPEN
5. I AM GRATEFUL FOR ALL OF THE WONDERFUL EXPERIENCES OF LIFE
Self-love may be a buzz word, but practicing it, can improve our day-to-day life in ways that are totally unexpected. 
My journey with self-love began in 2012 when I hit an emotional rock bottom.
It was the year that the world was supposed to end.
And mine did, in a sense.
It was the death of my old ways of thinking being transformed into a new way of life.
But it didn't feel that way at first...
I couldn't figure out what was "wrong" with me because from the outside, everything looked fine. I had everything that I wanted externally: a good job, a nice car, a roof over my head.
But the body doesn't lie. I started having allergic reactions to things that I normally had no issue with.
Deep down I did not feel content. I felt lonely and had little peace of mind.
I knew I needed to make some changes.
I was in an unhealthy relationship, spending time with people who didn't support my well being and 
using alcohol to cope with my problems. 
It wasn't until my birthday that year that I realized how bad things had gotten.
I went out to celebrate and remember feeling totally empty inside.
The following Monday, I woke up feeling different. Feeling hopeful.
I promised myself that I would make changes to improve the circumstances of my life. 
First, I found a support group which helped me in feeling less alone. 
Then, I broke up with my boyfriend so I could truly work through my issues in a healthier way, alone.
The people from my group were so amazing. They introduced me to energy healing and so I began my journey. 
I started meditating and using gemstones to set intentions for myself. (Rose quartz for self-love, black tourmaline for grounding, clear quartz for manifesting, aquamarine for calming, and amethyst for sobriety.)
I began practicing yoga and exercising regularly.
I wrote affirmations and put them in the medicine cabinet for me to see each morning. 
I started listening to positive podcasts and YouTube videos every morning. 
I began a gratitude journal where I would list 3 things that I was grateful for each day.
I discovered so many different things about myself and began to fall in love with the person in the mirror. 
And over the years, my practice has continued. 
My life is far from perfect, but it has improved so much due to the tools that I have picked up along the way.
I know many of you have a similar story and that is what makes me feel comfortable sharing all of this with you. 
I am not one to give advice, because I am still working on myself and probably will be forever!
When it comes to loving myself, I have found that wearing a piece of rose quartz while saying these affirmations, helps the most.