3 GEMSTONES TO SUPPORT YOU THIS HOLIDAY SEASON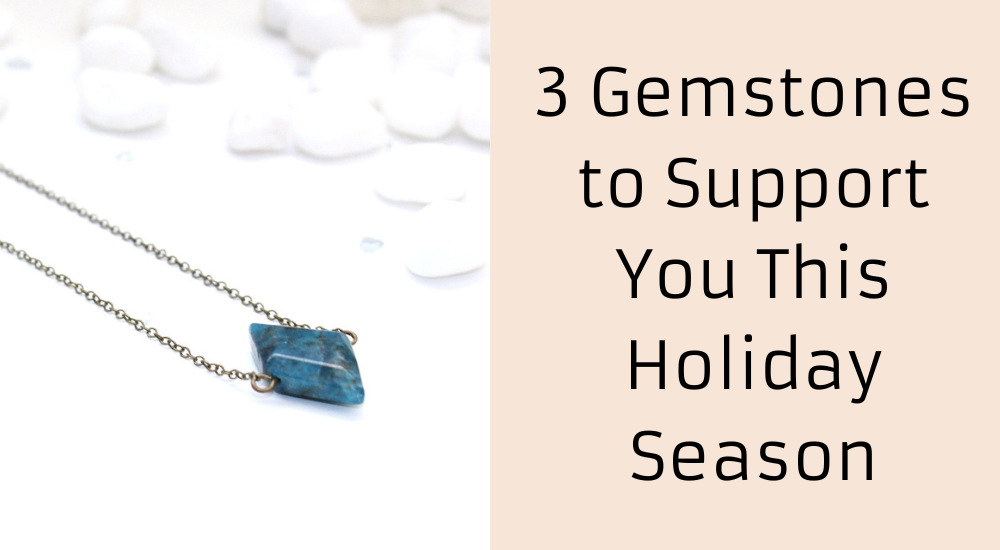 Can you believe it? Yep it's that time of year again and the holidays are right around the corner. 
If you're anything like me, you have the best plans going into the holiday season and then feel like a hot mess by the time December 1st hits. 
Which means there's another 3 weeks to enjoy but many times more than not, the days just go by so fast and before we know it, it's New Years Eve. 
So let's set an intention together, to enjoy the holidays this year by slowing down and taking it all in.
With that in mind, I wanted to share 3 gemstones that will provide support for you (us) during this holiday season, so grab a cup of coffee or tea or whatever you enjoy most and learn about these 3 stones that are not only beautiful but meaningful.
1. Blue Apatite 
This stone has been one of my personal go-to's and not just during the holidays but during times when I need a boost of positivity. 
Apatite is pronounced just like the word appetite, but not to worry this stone doesn't encourage overindulging at all. 😉
Apatite ranges in color from light green to dark blue and may even include some specks of black. 
Blue Apatite is a high vibration crystal that clears away apathy, confusion and negativity.
It's perfect for the holiday season because this is the time where we want to be in the moment, enjoying the little things all while having energy to spend time with people we may not get to see throughout the year.  
It manifests positive energy in your day-to-day life and can be especially helpful if you work in a role where you're providing support (teacher, nurse, caregiver, retail, service industry). 
And if you find yourself coming home from work drained everyday, how will you carve out time to spend with those that you love this holiday season? 
Blue apatite can help you by opening your throat chakra to communicate (in a loving way) your boundaries as the holidays approach.
It manifests positive energy and because of this, it's often called the "Stone of Manifestation". 
Which is also perfect for the holidays because if you have an extensive wishlist, you can be sure to get everything you dream of. 
2. Citrine
This gorgeous, juicy yellow stone is known to provide joy and harnesses the energy of the sun, bringing light into all areas of your life.
Another stone of positivity, Citrine will fill you with optimism and make your holidays more cheerful. 
It helps clear away self-doubt and transforms negative thoughts and feelings into positive ones. 
And if you're looking to manifest abundance, this is also the perfect stone for you as it helps turn your wishes and dreams into reality.  
It's practically impossible to be a scrooge while in the presence of citrine as it encourages generosity and sharing good fortune. 
Wear this gorgeous stone as a reminder to be joyful for each day this holiday season.
3. Rainbow Moonstone
If you're planning to travel during the holiday season, make sure you tap into the protective energies of rainbow moonstone. 
This stone is especially helpful for road trips or traveling at night. 
If you don't have any travel plans, rainbow moonstone is still a powerful stone to keep close by this holiday season. 
Especially if you are looking for emotional support. 
It opens the heart and assists in accepting and receiving love in all forms including self love. 
It's also a great stone to support new love and has been known to reunite loved ones who had once parted in anger. 
It promotes sensitivity and self-acceptance encouraging one to value themself and put harmful habits aside. 
The holidays may not always be the most joyful or easy time of year so this stone is great for those who are on an inward healing journey as it provides calming, soothing and balancing energies. 
It's also a stone of intuition so if you're feeling uncertain in any area of your life, you can open your mind to find inspiration and insight for more clarity.
I hope you've found this helpful and this crystal reading speaks to you but if not, please feel free to send the link along to someone that it may help.
Happy Holidays my sweet friend!!
Posted in

abundance, blue apatite, citrine, emotional balance, gemstones, holidays, love, manifestation, positivity, protection, rainbow moonstone